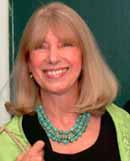 Philadelphia artist, Brooke Jaron is known for her unique and beautiful jewelry designs. Her distinct one-of-a-kind necklaces represent an aesthetic blending of components that she has carefully chosen in her travels to far away and exotic places. She has brought back antique jade, carved wood and silver from China; hand made silver beads from Turkey, India and Indonesia; antique and old silver components from the Hill Tribes of Thailand; amber beads from Russia and the Middle East and old Bedouin pieces from Egypt and Israel. Some of the most precious and rare elements are saved for years, waiting for the moment of inspiration when shapes and colors are combined and arranged to reach a perfect balance.
By gathering pieces from throughout the world and featuring them in her jewelry, she can create a statement that reflects a particular culture, country, or period in history. Something special happens when you wear an ornament from another time; you gain a feeling of having been part of an earlier experience. From the worn edges of an old silver amulet or the smooth finish of an antique jade pendant, you sense the presence of past souls.
Her work has been sold through museums, galleries and shops including The Textile Museum, Washington DC; The Asian Art Museum, San Francisco; Rubin Museum of Art, New York City; Muse Women, Doylestown., PA; Yasuko, Healdsburg, California; Gloria S. Los Angeles; Dreamweaver, Sarasota, Florida; Ann Ahn, Madison Ave, New York; Santa Fe Weaving Gallery, Santa Fe, New Mexico; Peabody Essex Museum, Salem, Massachusetts; and Ibu Movement, Charlestone, South Carolina.